Koji Ceramide Project

Koji is the Japanese traditional fermented food which has a history of more than 1000 years (probably with the primary dynasty of Japan).
This website introduces academic information about Japanese koji.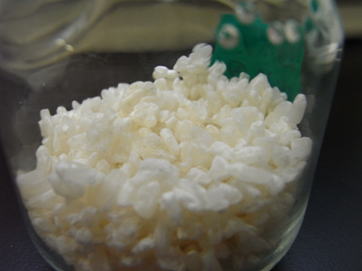 What is koji?
Koji is steamed rice fermented with nonpathogenic fungus, Aspergillus oryzae or A. luchuensis.
By utilizing the property that these fungi secretes abundant starch-degrading enzymes, it has been used as the starch-degrading (saccharifying) reagent in the production process of fermented foods in Japan.

Are koji and Aspergillus safe?
Since koji has been ingested by Japanese people for a long time, USA FDA admits koji as GRAS (Generally Regarded as Safe).
Recent genomic analysis shows that A. oryzae and A. luchuensis does not have functional genes to produce mycotoxins such as aflatoxin (Nature. 2005; 438(7071):1157-61.).

History of Koji
Food fermentation using fungus is described in Japan in 713 AD, and food fermentation technologies using koji are described in detail in 970 AD. Since a battle of the koji industry sponsored by the Kyoto Kitano Academic Shrine, one of the most influential shrines in Japan, and the fermentation industry occurred in 1246 AD, microbiological methodology has been established. Therefore, it is considered that before 1246 AD, A. oryzae had been isolated and utilized in the industry in Japan.

Japanese traditional foods which use koji
Koji drink Amazake (Rice drink saccharified with koji)
Sake (alcoholic drink) koji is used as the saccharifier of starch in rice
Osu (Rice vinegar) koji is used as the saccharifier of starch in rice
Kurosu (Black rice vinegar) koji is used as the saccharifier of starch in crops
Shochu (distilled alcoholic drink) koji is used as the saccharifier of starch in crops

Health benefits of koji
Koji contains abundant beta-glucan, which stimulates immunity through macrophages.
Koji contains glycosylceramide, which improves intestinal microbial flora and lowers liver cholesterol.
Koji glycosylceramide activates barrier function genes of human skin cells.
Degradation product of koji glycosylceramide activates PPAR.

The structure of glycosylceramide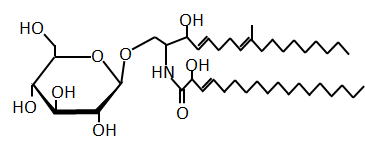 麹セラミドプロジェクト

糖セラミドの機能性を解明しようというプロジェクトです。
これまでに

日本の発酵食品(甘酒、塩こうじ、味噌、濁り酒など)に麹糖セラミドが多く含まれること
麹糖セラミドにBlautia coccoidesなどの善玉菌を増やす腸内細菌叢の改善効果があること
麹糖セラミドに肝臓コレステロール低下効果があること
麹糖セラミドにヒトの肌の角質細胞のバリア機能の活性化機能があること
麹糖セラミドの分解物にメタボリックシンドローム改善効果のある転写因子PPARの活性化能があること
糖セラミドがBlautia coccoidesの代謝を改変しグラム陽性細菌の生存を二次胆汁酸耐性を通じて増やすこと
などを見出しています(以下の発表論文参照)。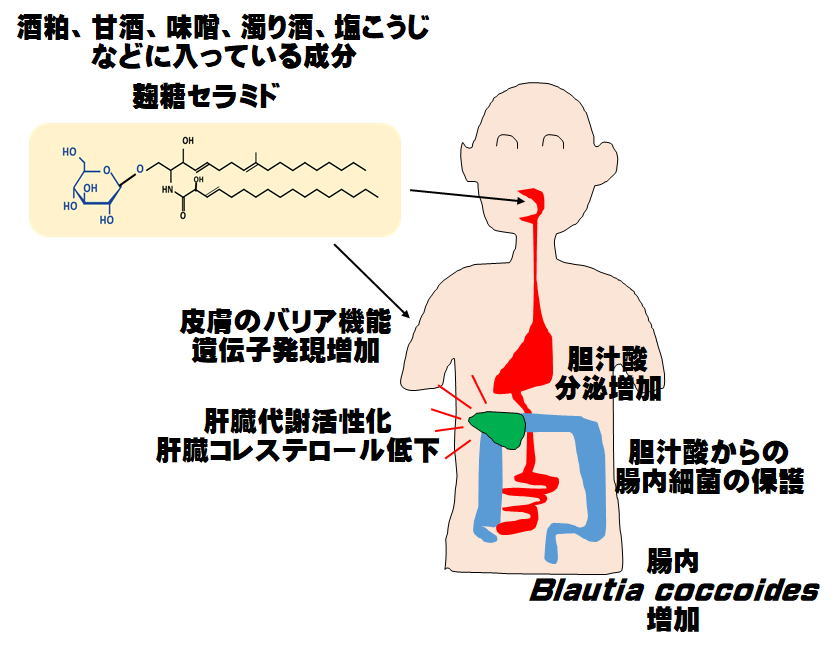 また甘酒の健康機能性も明らかにしました。
https://www.mdpi.com/2571-841X/4/4/36
甘酒を非アルコール性肝疾患の患者さんに毎日飲んでいただき、その健康効果を明らかにした論文です。
その結果、統計的に有意に好酸球が増加し、TNF-alpha、筋肉のこむら返り、うつ症状が減少することがわかりました。一方で免疫反応性インスリンやHOMA-IRは増加しており、甘酒の量や糖度に気を付ける(甘すぎないものを選ぶ)ことが必要だとも考えられました。

Koji glycosylceramide commonly contained in Japanese traditional fermented foods alters cholesterol metabolism in obese mice.
Hamajima H, Tanaka M, Miyagawa M, Sakamoto M, Nakamura T, Yanagita T, Nishimukai M, Mitsutake S, Nakayama J, Nagao K, Kitagaki H.
Biosci Biotechnol Biochem. 2018 Dec 30:1-9. doi: 10.1080/09168451.2018.1562877. [Epub ahead of print]


Japanese traditional dietary fungus koji Aspergillus oryzae functions as a prebiotic for Blautia coccoides through glycosylceramide: Japanese dietary fungus koji is a new prebiotic.
Hamajima H, Matsunaga H, Fujikawa A, Sato T, Mitsutake S, Yanagita T, Nagao K, Nakayama J, Kitagaki H.
Springerplus. 2016 Aug 11;5(1):1321. doi: 10.1186/s40064-016-2950-6. eCollection 2016. Erratum in: Springerplus. 2016 Oct 25;5(1):1869.

Glycosylceramides Purified from the Japanese Traditional Non-Pathogenic Fungus Aspergillus and Koji Increase the Expression of Genes Involved in Tight Junctions and Ceramide Delivery in Normal Human Epidermal Keratinocytes
Miyuki Miyagawa, Ayami Fujikawa, Mayu Nagadome, Kanae Kohama, Takatoshi Ogami, Seiichi Kitamura and Hiroshi Kitagaki
Fermentation 2019, 5(2), 43; https://doi.org/10.3390/fermentation5020043
https://www.mdpi.com/2311-5637/5/2/43


Structural determination of glucosylceramides in the distillation remnants of shochu, the Japanese traditional liquor, and its production by Aspergillus kawachii.
Hirata M, Tsuge K, Jayakody LN, Urano Y, Sawada K, Inaba S, Nagao K, Kitagaki H.
J Agric Food Chem. 2012 Nov 21;60(46):11473-82. doi: 10.1021/jf303117e. Epub 2012 Nov 12.
Quantitation and structural determination of glucosylceramides contained in
sake

lees.


The fungal 9‐methyl‐sphingadiene is a novel ligand for both PPARγ and GPR120
Shota Esaki Tomotaka Nagasawa Haruka Tanaka Aoi Tominaga Daisuke Mikami Seigo Usuki Hiroshi Hamajima Hisatoshi Hanamatsu Shota Sakai Yoichiro Hama Yasuyuki Igarashi Hiroshi Kitagaki Susumu Mitsutake
Journal of Food Biochemistry, Volume42, Issue5 2018 e12624

Development of a quantitative method for the contents of glycosylceramide contained in Japanese fermented foods brewed with koji and its application.
J. Brew. Soc. Jpn, 112, 9, 655-662(2017)

Structural determination by electrospray ionization tandem mass spectrometry (ESI-MS/MS) of glucosylceramides in the distillate of potato shochu, the traditional Japanese liquor produced from sweet potato.
J. Brew. Soc. Jpn, 109, 7, 535-542 (2014)

Nagao, Y.; Takahashi, H.; Kawaguchi, A.; Kitagaki, H. Effect of Fermented Rice Drink "Amazake" on Patients with Nonalcoholic Fatty Liver Disease and Periodontal Disease: A Pilot Study. Reports 2021, 4, 36. https://doi.org/10.3390/reports4040036

Dai, H.; Otsuka, A.; Tanabe, K.; Yanagita, T.; Nakayama, J.; Kitagaki, H. Glucosylceramide Changes Bacterial Metabolism and Increases Gram-Positive Bacteria through Tolerance to Secondary Bile Acids In Vitro. Int. J. Mol. Sci. 2022, 23, 5300. https://doi.org/10.3390/ijms23105300

一般の方にもわかるように本を出しています。
農文協、こうじ菌、北垣浩志
ISBN: 978-4540171765